Design process from wireframing, low to mid fidelity prototyping and usability testing
Findings from usability tests
After conducting some usability tests with my mid-fi prototype, these are the main feedbacks from the interviewees
More clarification on the kind of dog food Lyka sells.

My original idea of front-loading the serve portion customising/price calculation features from BaB flow in the Meal Planner tile was a bit convoluted. Although the customer needed the pricing upfront, however, were not prepared to answer specific questions to obtain the price. They would prefer a more streamlined approach for a price estimate instead

Amalgamating the "How lyka works" with other information to minimise the page scroll, creates confusion and key information were too hidden away.
In summary
It always comes down to these three main questions
"What kind of dog food?"

"Why do I have to give out information to get the price?"

"How How do I get them delivered?"

It is crucial to answer them in an intuitive way with limited scrolls. We must give satisfactory answers to these questions before providing other additional information. With that in mind, I was set to do my final iteration in high fidelity
High fidelity prototype
01 - Beginning section
Updates includes:
Quick note to "discount offer" as an incentive to newsletter sign up. It moves behind the fixed nav menu as customers scroll down
Provide visual cues of the product in different form - At your door step, per serve pouch & served as meal.
Wording adjustment on Header and body copy to help better clarify the service and the product.
Answers the most pressing questions as bullet points with expandable detail content.
02 - Middle section
Updates includes:
Providing price guide with half serve option in Meal Planner tile
Front-load filter features from BaB flow into Recipes tile
Easily accessible CTA buttons through this section
03 - Bottom section
Updates includes:
Detail information
Providing link to relative page for more details on the topic
Reminder for newsletter sign up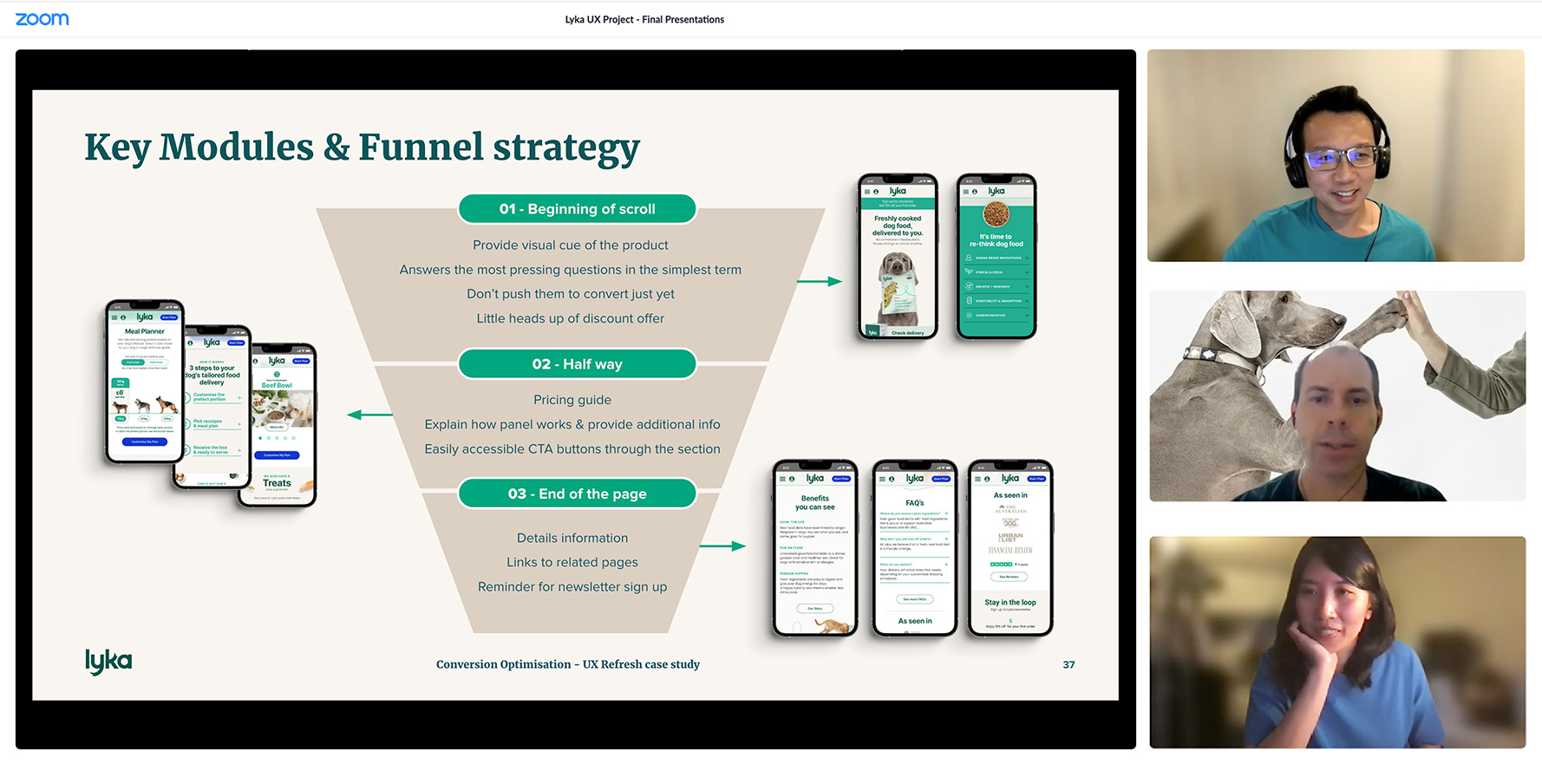 Final client presentation
At the end of this project I gave a 15mins presentation to Cindy (Design Director) and Lorenzo ( Senior Product Manager) from Lyka which briefly recapping the key research findings before spending the majority of the presentation discussing the key design decisions and demonstrating the high fidelity prototype. Clients was inpressed with design in particular of surfacing the meal receipe filtering funcition out of the "build the box" flow, since lots of their prespective customers who landed on Luyka's homepage because of their dog's health issues by providing them a way to know more about the product and found out whether or not it is suitable for their dog's condition
One last round...
Uitilising Askable and testing platform Maze, I conduct one more test with this High-Fidelity Protoype.
Feedback was very positive, there were only few more points which the customer would like work on.
Comment - A customer would like the food to be more specfic listed as (e.g. wet mince)
Thoughts - Add fine detail of the product in the first tile with more descriptive sub-header (e.g. what is Lyka?)
Comment - Unable to find information on delivery date or frequency.
Thoughts - Delivery information calculated based on customer's inputs during the BaB customisation flow, however, an estimate frequency of delivery can be incorporated in "Meal Planner" tile to give customer an estimate.
Comment - Provides product's shelf life information.
Thoughts - Information can also be incroperated in in the first tile under "What is Lyka?"" sub ahead.